Sunrise Ultimate
"You will love the way your ultimate spa looks in your garden"
Our whirlpools are hassle-free, easy to operate and very luxurious.
The ultimate in luxury, comfort and massage
Sunrise Spas knows you have many choices and understands your investment in a spa is one that should not be taken lightly. Whatever your individual reasons are to start enjoying the benefits of living the spa lifestyle, we are committed to exceeding your expectations.
Although many spas may look similar, they are not built the same. Throughout your journey we encourage you to educate yourself, and then compare the design and construction techniques of an Ultimate spa.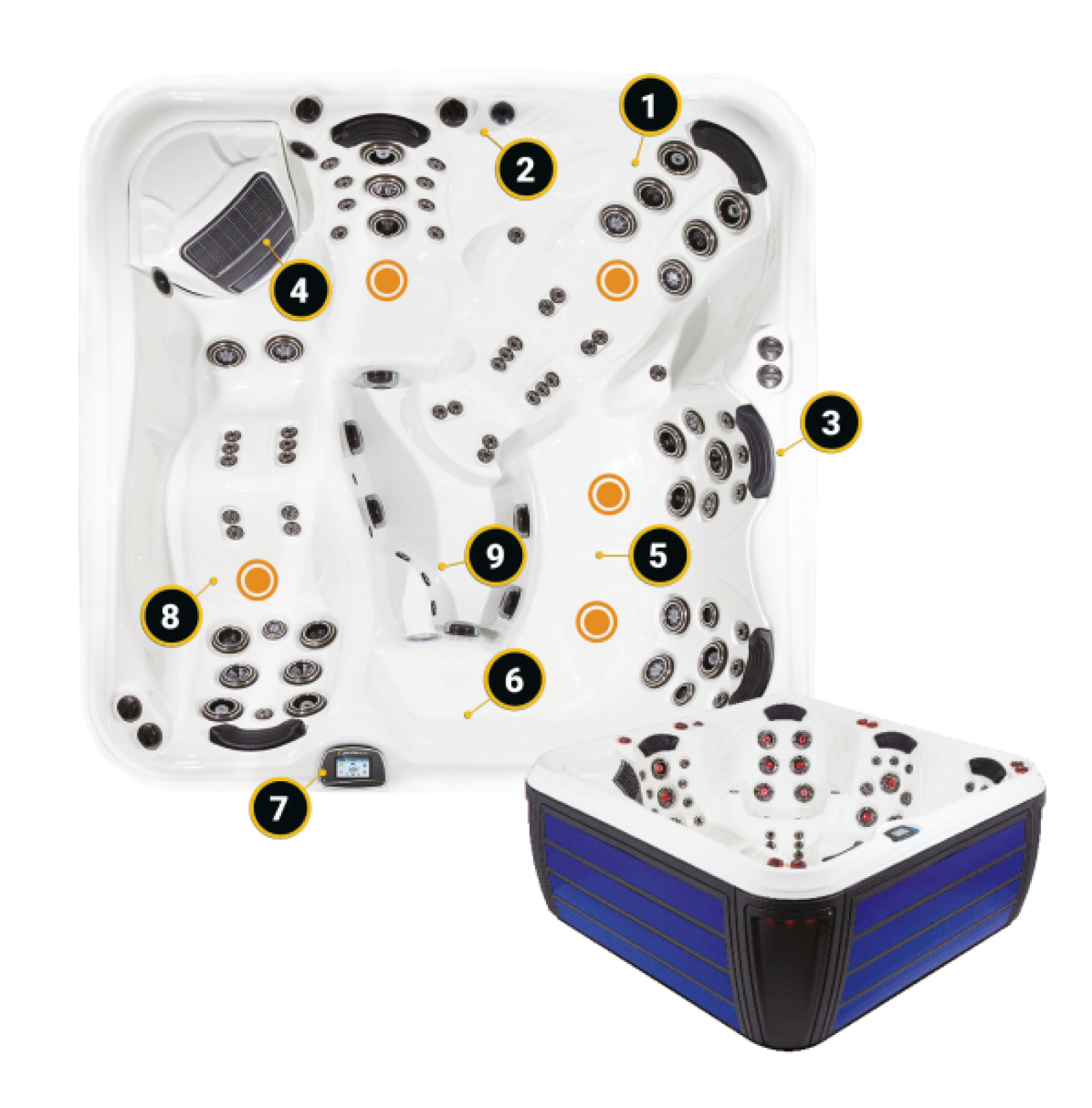 Ultimate Collection
Features
1 22-Point controlled body therapy seat with dual pressure controls
2 Lighted tranquility fountain with a zen inspired cascading waterfall
3 Shiatsu massage chair
4 Quad filter auto clean water management
5 Dual height couple's relaxation zone
6 Easy entry step
7 Balboa touchscreen controller
8 Zero gravity lounge
9 11 dedicated reflexology jets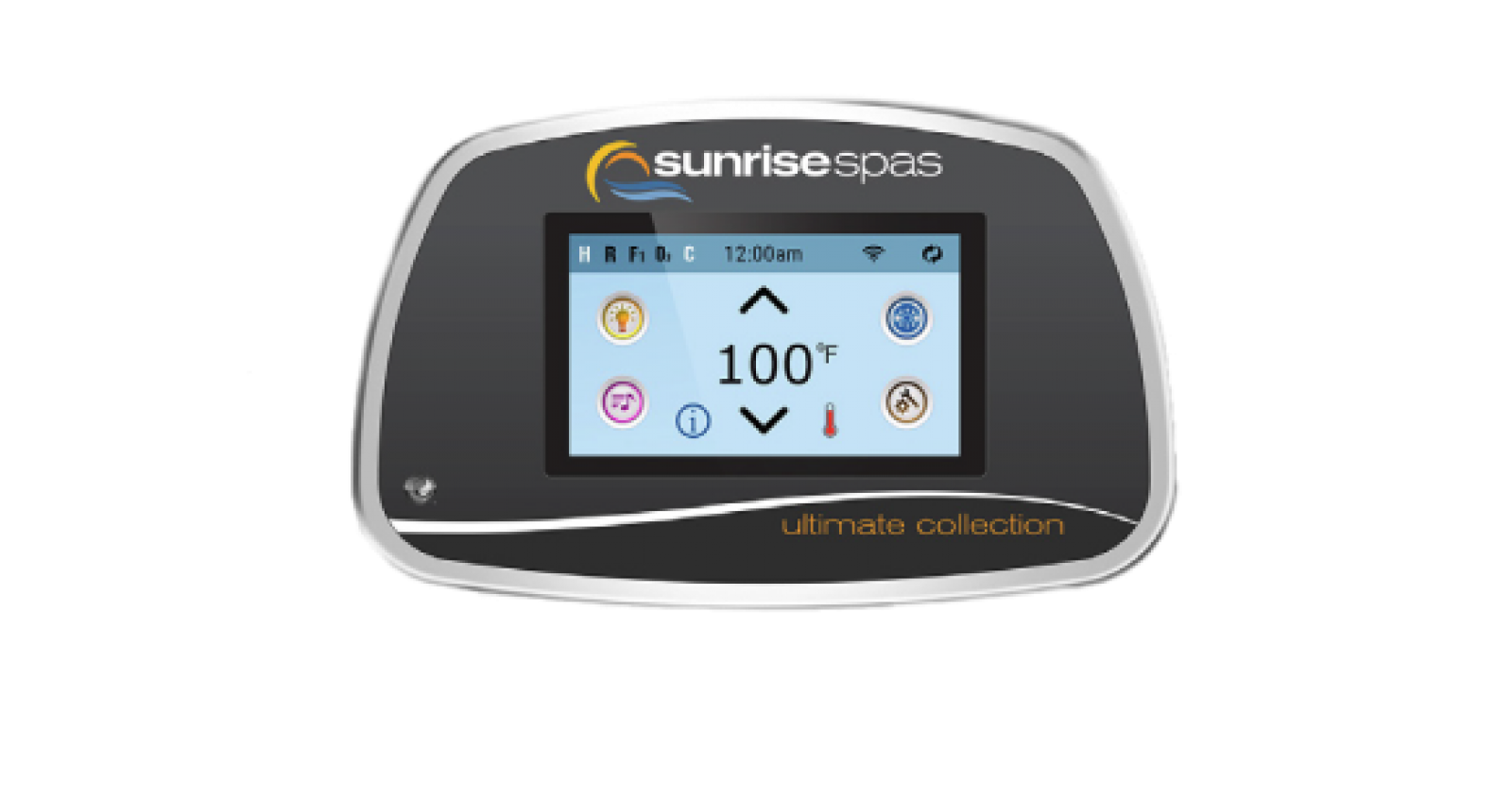 Smart Touch Panel
The Sunrise Spas advanced SmartTouch control panels are easy to read and allow you, with the tap of your finger, to change the temperature, adjust lighting or control your massage. Unlike your smart devices this control works even when wet.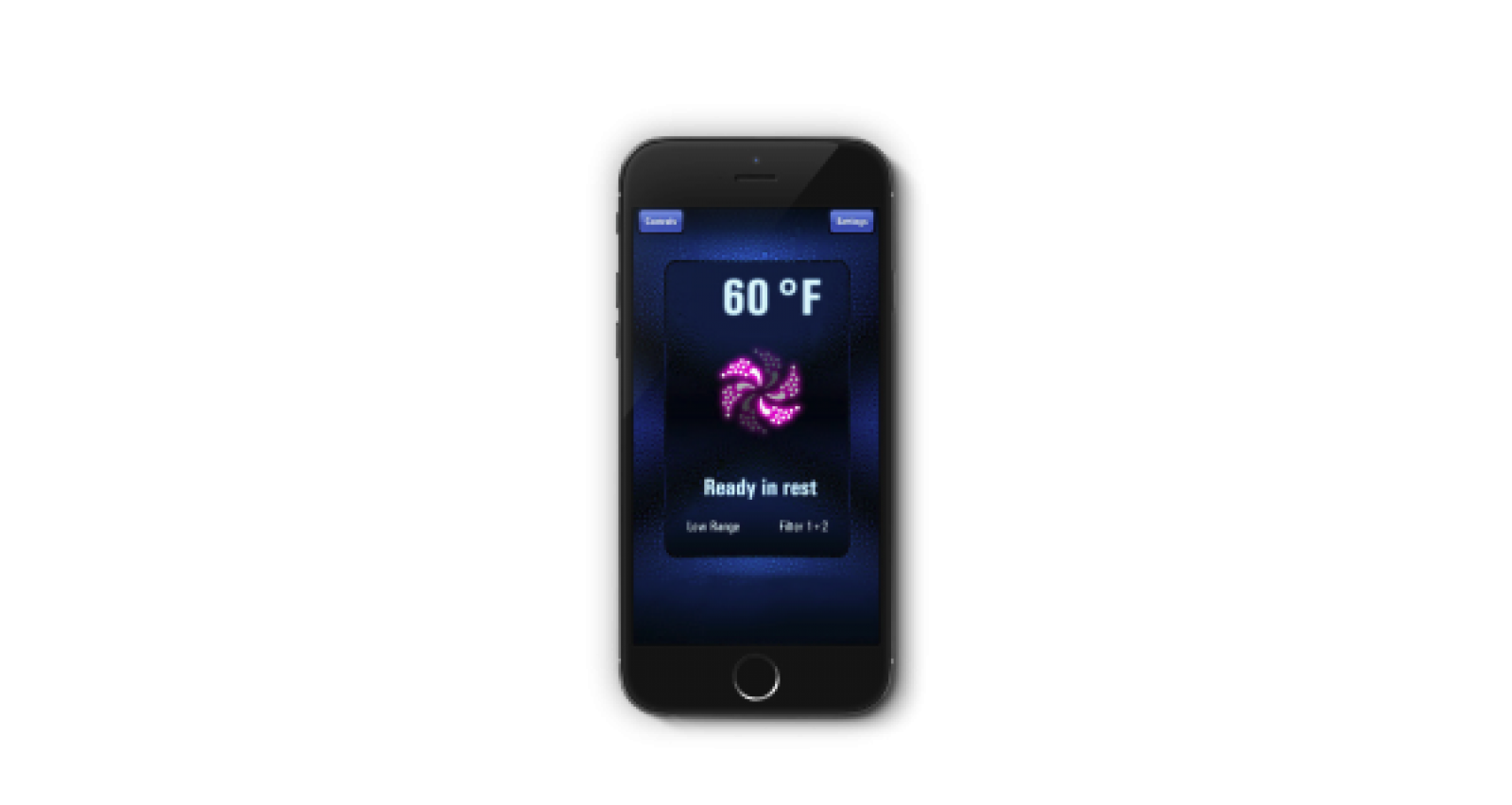 Wireless Connectivity
The Balboa Water Group Control My Spa feature allows you access to your hot tub anywhere in the world where you have an internet connection to your mobile device. It provides a full interface control to set the temperature, turn pumps & lighting on and off, set filtration cycles and monitor your spa while you are away.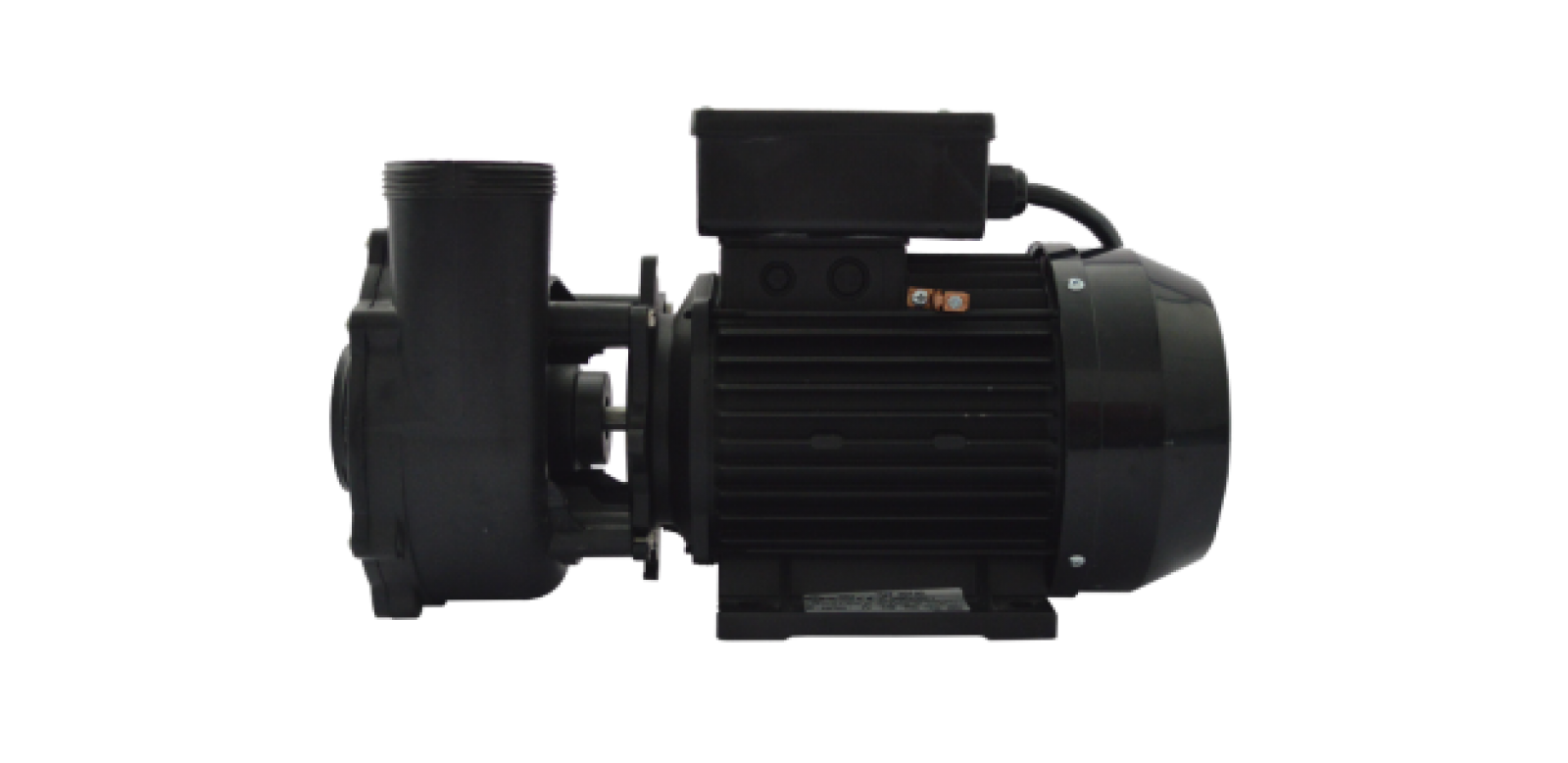 Power Saver Pump
This special pump is used for spa heating and filtration, only using 1A when doing so, increasing the level of energy efficiency, while still providing an intense massage when the High Speed is switched on. Only available on the Ultimate Collection.
Personalized Comfort and Style
The Ultimate U1 Spa offers enviable personalized features which include an ultra-comfortable zero gravity lounge seat, a 22-point controlled body therapy seat with dual pressure controls, a two-seat couples relaxation zone, and a shiatsu massage chair next to a lighted tranquility fountain with a Zen inspired cascading waterfall.
Shiatsu Massage Chair
A total of 11 jets, including 3 large LED-Glo jets tiered down the center of the back, and 8 perimeter jets following the side contours of the back for deep tissue massage.


22-Point Controlled Body Therapy
Seat With dual pressure controls, this seat lives up to its name providing 22 points of Therapy, including 6 across the back, 10 along the thighs and calves, then 2 armrest jets and 4 footplate jets delivering reflexology therapy to wrists or hands, plus the balls and heel of each foot. Includes 6 LED Glo-jets.


Dual Height Couple's Relaxation Zone
Two side by side seats set at two different heights, providing 8 jets each for the back, varying from large to shiatsu sized, and directly across a multi-jet reflexology dome for a relaxing foot massage. Includes 2x 3 LED Glo-Jets.


Zero Gravity Lounge
A total of 20 jets provide 2 levels of massage pressure, neck-to-foot massage action. Includes 8 jets for upper, middle and lower back comfort, along with 10 thigh and calf jets, plus 2 jets providing reflexology therapy to the bottom of your feet. Jet sizes vary from large to shiatsu sized for deep tissue massage. Includes 8 LED-Glo Jets.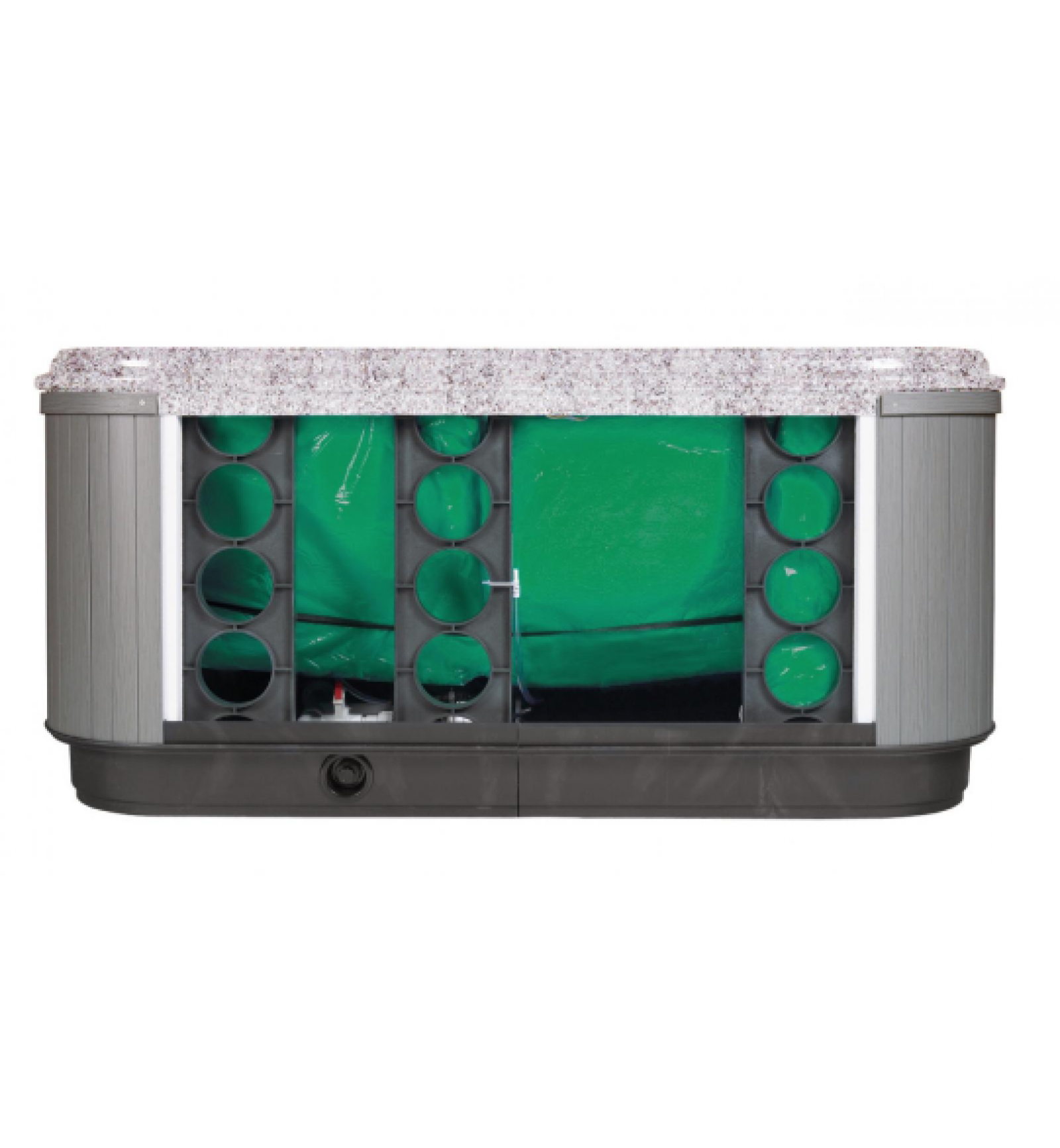 Green Guard Roxul Insulation
Every Sunrise spa is insulated with our proprietary Green Guard Roxul Insulation.
This method of insulation captures and recirculates the spa's own heat energy throughout the interior cabinet, reducing the demand on the heater – saving you money.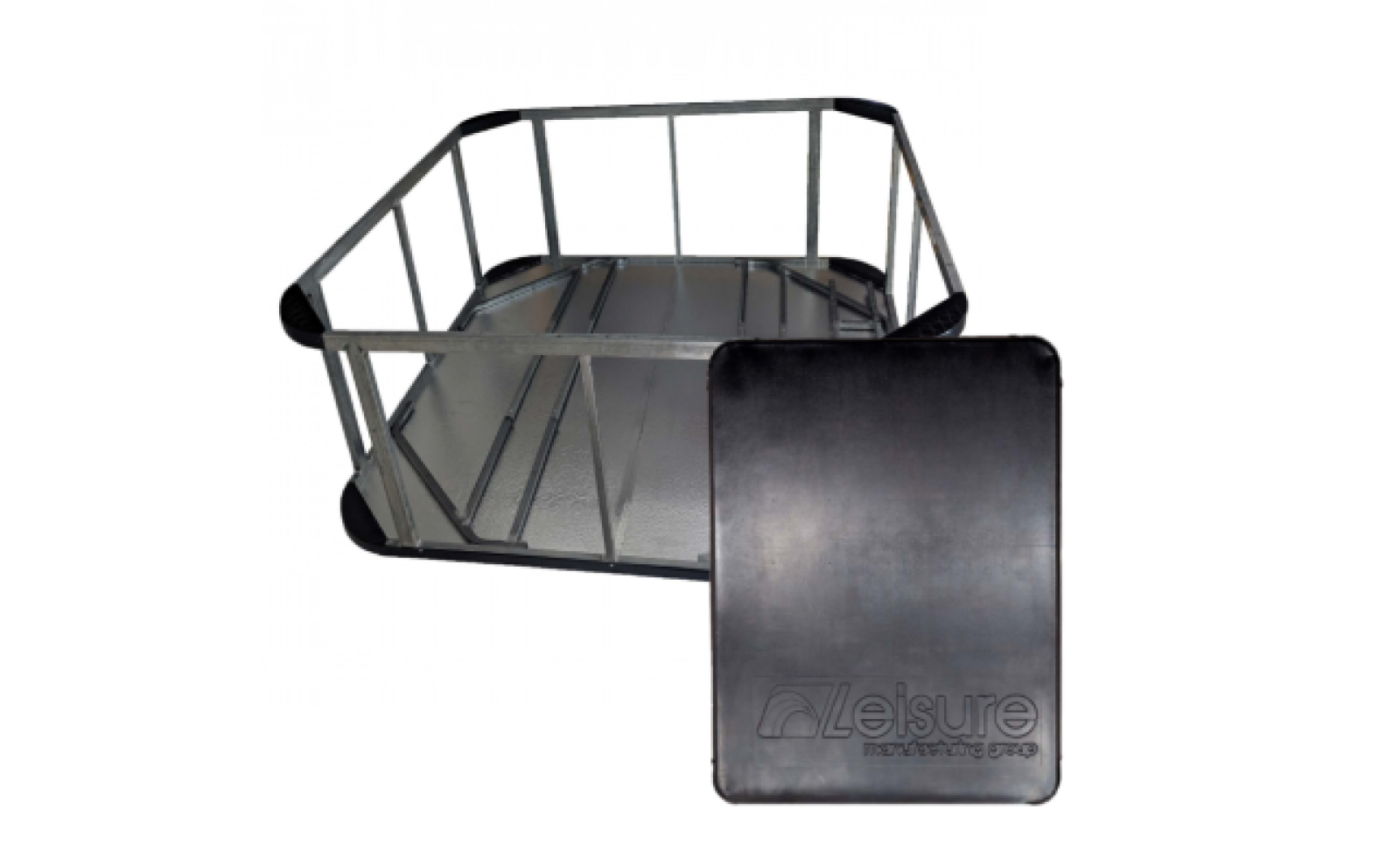 Strength and stability from the inside out
Every Inspiration spa starts with a solid foundation. Our polyethylene ABS Capped Bottom Tray seals out critters and moisture while sealing in the heat.
Integrated into the ABS Capped Bottom Tray is our galvanized steel frame. Engineered to provide the strength and stability required to support over 3200 kg.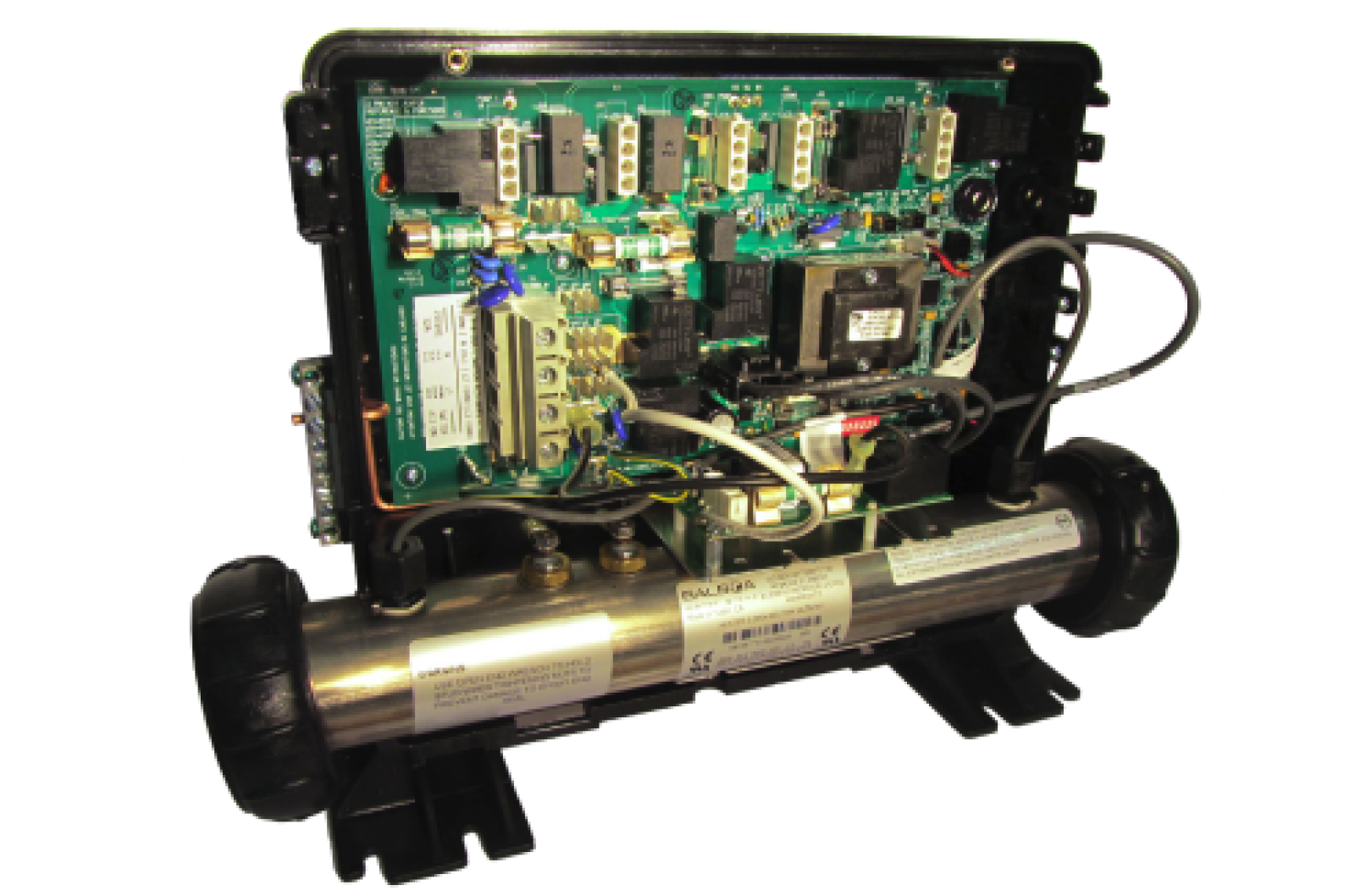 Quad filter Auto Clean Water Management
Delivering consistent easy care and water management, the auto clean water management system combines filtration and a sanitization system resulting in a virtually self-cleaning spa. Filtration action through four proprietary anti-microbial filters, powered by the extremely energy efficient Power Defender single amp pump, is teamed up with the AquaNova Dual UV/ Ozone Sanitizer System to ensure unwanted elements are removed and your water is kept clean and clear.
The antimicrobial filters are built with Advanced Point Bonded Filtration Fabric and are enhanced with an exclusive antimicrobial agent that is infused into the filtration fabric itself unlike the standard cartridges. This technology inhibits the growth of dangerous microbes and provides continuous, durable and effective added protection for the lifetime of the product to ensure the health, safety and well-being of your family.